GraceInside is very blessed to have Chaplain Daniel Theiben set apart to minister to the men incarcerated in the Virginia Department of Corrections' (VADOC's) "Restorative Housing Units" (the most secure and lonely cells at the two highest security state prisons – Red Onion State Prison and Wallens Ridge State Prison – both located in Wise County, VA). Chaplain Theiben recently sent in this exciting monthly report: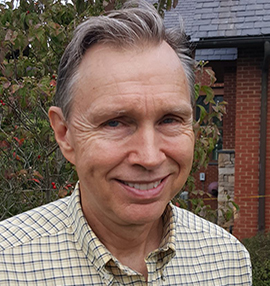 "I was able to visit all of the Restorative Housing Unit (RHU) pods at both ROSP and WRSP this past month. At Wallens Ridge, I handle all of the religious mail from the RHU pods. At ROSP, I continue to conduct two Protestant services for the Protective Custody inmates and one for the General Population inmates in Building A each week.
"As I walked through the B6 pod one day, one inmate asked me, "Are you ready to dance with the devil?" I had encountered him before. He professes to be a Satanist. He says he wants to 'convert' me.
"I responded, 'No, I'm dancing with Jesus!'
"He pointed to my worn-out shoes and said, 'The devil takes better care of his people! You need to consider turning your life over to the devil so that he can give you nicer things.' I reminded him that I have everything I need and that my treasures are in heaven, not on earth. He then pointed to his buddies in the cells around him and asked, 'Aren't you afraid to be in here with us?'
"'No, why should I be?' I replied. 'God has protected me this long, and when it's my time to go, then I'm ready.'
"With a serious look on his face, he observed, 'You really aren't afraid.' Then, staring right at my face, he confessed, 'I can see Jesus in your eyes.' As Chaplains, we need a deep, honest love. We need to share a bold, honest word from God. Please pray that this self-proclaimed Satanist will trust Jesus.
"On another day, while I was walking through one of the RHU pods, 'E.B.' hollered out to me, 'Tell me something from the Bible!' God led me to share the story of the Prodigal Son from Luke 15 with him. While I told the story, he hung onto every word – probably hearing it for the first time. At the end, E.B. exclaimed, 'The Prodigal Son is like me!' What a miracle! God the Spirit took Jesus' words and directly applied them to E.B.'s life! I then helped him fill out a Property Request Form to receive a Bible. Pray that E.B. will read his Bible and find the loving, gracious Christ that he so desperately needs.
"In the New Testament, followers of Jesus began to experience persecution very early on. In Acts 4:29, after facing opposition, Jesus' disciples prayed, 'Grant unto thy servants, that with all boldness they may speak Thy word.' May this be our prayer as Chaplains as we minister in Virginia's state prisons."