How Does Prison Chaplaincy Work in a Pandemic?
In 2020 GraceInside, Virginia's State Prison Chaplaincy Ministry, celebrated its CENTENNIAL Anniversary.
With the country in the midst of the COVID-19 pandemic there was no time for celebration or fanfare. Instead, GraceInside worked diligently to ensure that Virginia's state prisons would continue provide chaplaincy services even in these unprecedented circumstances. A little over 100 years ago, a diverse coalition of denominations in Virginia helped found GraceInside. And this coalition, now joined by additional denominations, churches, community groups and by literally hundred of caring individual donors, continues to partner with and support this vital ministry today.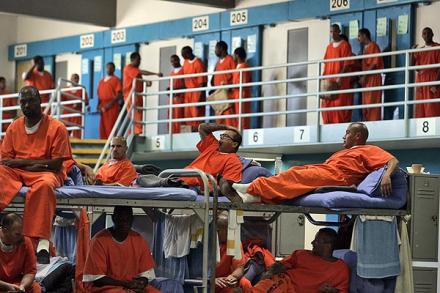 Virginia is UNIQUE in that its State Constitution (with its strong emphasis on the separation of church and state) does NOT allow taxpayer monies to be used to provide or support chaplains or religious programming/ministry in state facilities. Thus, GraceInside was formed in 1920 for the specific purpose of placing qualified, caring CHAPLAINS in our STATE PRISONS.  We have gone from ONE chaplain serving in ONE state prison  to now 30 chaplains serving in the state's 30 major prison facilities (out of 42 state prisons in all – with the remainder being small Field Units and Work Centers). We reach and minister to approximately 25,000 incarcerated men and women in state prisons across the Commonwealth. But many people are asking: How does prison chaplaincy work during a pandemic? Jails and prisons are of course among the most dangerous places to be during a pandemic, with large numbers of men or women living together in close quarters, little ability to social distance, and of course numerous health and safety concerns. But believe it or not, prison chaplaincy/ministry has not ceased. It is alive and flourishing!
When the coronavirus hit early this year, Virginia's state prison system acted quickly to take every precaution possible to stop or slow the spread of the virus among inmates and employees. By April 1, 2020, all of the state correctional facilities across the Commonwealth had gone on "modified lockdown" status. This meant that all non-essential staff were sent away from the facilities and began to work from home. Only security, food service, medical staff, etc. could continue to work in the prisons.
All family visitation ceased (and is still not occurring). Inmates could no longer move outside their immediate living units (to common dining halls, gyms, recreation fields, classrooms, etc.). All incarcerated men and women have been confined to just their own living units (cells or dorm style bunks) for months. All meals are served in cells or at the bunk areas. There is rigorous cleaning and sanitizing. All inmates and staff wear masks. All programs (educational, vocational, treatment, and religious) have been suspended for months. All volunteers were barred from the state prisons as of April 1. It has been a dark and difficult time for incarcerated men and women and their families, as well as for correctional staff.
But the spiritual needs of inmates and staff have not been forgotten or neglected. GraceInside worked closely with the Virginia Department of Corrections (DOC) to forge a Chaplains Telework Agreement (that went into effect April 15, 2020 and has been renewed several times, now extending to at least January 15, 2021). The DOC was willing to be very creative and innovative in making ways for the chaplains to maintain contact and ministry with inmates and staff:
 (1) Paper Mail – Inmates and staff can write to their chaplains, and the chaplains can write them back. Chaplains go to the front entry area or mail room of their facilities briefly on Tuesdays and Fridays to pick up and drop off mail. All mail from inmates and staff is read and personally answered.
(2) Email – The chaplains were issued laptop computers by the state and told to create special, temporary email accounts. The DOC is allowing chaplains to use these accounts to email any/all of the inmates in the prisons directly on the usually "closed/pay-for-use" inmate/family email system. The number of emails is unlimited and is being done at no cost! Chaplains can attach a code that allows the inmate to send an email response back. Many chaplains have gotten to know the inmates at their facilities better than ever before through these emails (which include prayer requests, Bible teaching, written pastoral counseling, etc.).  This is something that has never been allowed before in the Virginia state prison system! Even approved religious volunteers are being allowed to send in encouraging emails through this system – what an opportunity!
 (3) In the event of emergencies (illnesses or deaths in families, etc.), inmates and staff members can be approved by administrators to be escorted to a private state office where they can have (monitored) phone crisis counseling with their chaplains for free (e.g. administrators are dialing the chaplains on their personal cell or home phone numbers for these supervised calls).  Follow-up pastoral care calls can be scheduled as needed.
 (4) The DOC is piloting a new, multi-channel closed circuit television system in the prisons whereby inmates can watch religious programs and services for free on their TVs in their cells or on small tablets. Many wonderful ministries (national, state, and local) are donating newly created, COVID-19 specific religious program DVD's to the DOC.
The chaplains are of course torn and have mixed feelings about doing ministry from afar (or "in exile"). Many didn't want to leave their facilities when COVID-19 hit, and many want desperately to go back in to shepherd their flock in person. But for now there is too great a risk of bringing the virus in and out.  So it is a time of waiting and doing ministry in a very different way.
 Please pray for the chaplains–that they will not become discouraged during this difficult time.
Pray for the incarcerated men and women in our state prisons and for their family members. It is truly a lonely time for these folks.


And pray for the dedicated, essential, correctional officers and staff members who risk their own lives day after day, trying to keep the inmates safe and healthy. Pray that GraceInside and prison chaplaincy will survive in Virginia, especially since the virus and the economy have greatly impacted the funding needed to support the chaplains.  Virginia is unique in that it is the ONLY state in which chaplains are NOT state employees and are NOT compensated with taxpayer monies.  State prison chaplaincy in the Commonwealth is provided through the generosity of caring denominations, churches, foundations and individuals, along with a contract with the DOC that enhances faith-based services through the addition of monies from the DOC Inmate Commissary Fund. This public-private partnership is unique in the nation!
GraceInside truly needs YOUR support in order to continue its vital work during and beyond this Centennial Year. Please spread the word in your family, church, and community that GraceInside desperately needs additional financial support to continue its mission through and beyond this time of crisis.
Waves of the virus continue to spread in the state prisons. The numbers go up and down. Luckily, most cases have been asymptomatic. However, there have indeed been hospitalizations and even deaths among inmates and staff members. During a very dark and lonely time, YOU have the privilege of partnering with GraceInside to shine the light of God's love into the hearts and lives of the men and women that are incarcerated in our state prisons.
Jesus said, "I was in prison and you came to me." Thank you for remembering even "the least of these" who are shut away in prison cells and dorms – especially during this very challenging time.
– by Rev. J. Randy Myers, President, GraceInside
For Offenders
 TRANSITIONING TO COMMUNITY LIFE AND REENTRY
 SUBSTANCE ABUSE RECOVERY
Discover you question from underneath or contact us.